In Memory
Cyndie Hogreve (Rexford)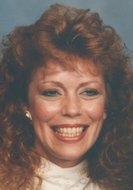 Cyndie Hogreve Rexford

Born: June 10, 1950

Died: February 21, 2019

Cyndie Hogreve Rexford, 68, of Crystal Lake, passed away peacefully on February 21, 2019. She was born on June 10, 1950 in Chicago, IL.
Cyndie's friend Terry Dowd (CLCHS Class of 1965) wrote to our class, " Cyndie came with me to Texas in 1967. She married Byron Rexford on August 2, 1968. Byron was in the Air force and stationed at Ellington Air Force Base in Houston.

Cyndie's obituary was in the Northwest Herald as follows:
Cyndie will be joyfully remembered by her loving partner of 30 years, Jeff Danca; brother, Jay Bernhardt, along with nieces and nephews.

She was preceded in death by her parents and brother, Burt Hogreve.

A Celebration of Cyndie's Life will be held on Tuesday, February 26, at 7:30 PM. A visitation will be from 4:00 PM until the time of service at Davenport Family Funeral Home and Crematory, 419 E. Terra Cotta Ave. (Rte. 176), Crystal Lake, IL 60014. Interment will be private.

In lieu of flowers, donations may be made to, American Liver Foundation, National Office, 39 Broadway, Ste 2700, New York, NY 10006, www.liverfoundation.org

For information, please contact Davenport Family Funeral Home, Crystal Lake, 815-459-3411. For online condolences please visit, www.davenportfamily.com.
Terry Dowd's contact information can be found by asking the Reunion Committee.