In Memory
Tom Neuman VIEW PROFILE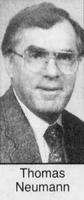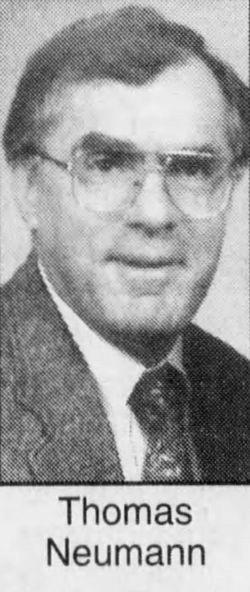 Thomas E. Neumann
April 14, 1950 - December 8, 1998
Lexington, Kentucky

The funeral of Thomas E. Neumann, 48, of 105 Melissa Drive, Lexington, will be at 10:30 a.m. Saturday at St. Paul's Evangelical Lutheran Church, Lexington, the Rev. Edward F. Doerner officiating. Burial will be in Lexington Cemetery. Visitation will be 4 to 7 p.m. today at Musselman-Beck Funeral Home, Lexington.

Thomas Neumann died at 8:44 p.m. Tuesday (Dec. 8, 1998) at BroMenn Regional Medical Center, Normal, Illinois, of natural causes. In lieu of flowers, memorials may be made to Lexington Ambulance Fund, St. Paul's Evangelical Lutheran Church or the Cancer Society.

Mr. Neumann was born April 14, 1950, in Elgin, a son of Ed and Esther Sherwood Neumann. He married Andrea Gillies on Aug. 22, 1970, in Crystal Lake. She survives. Also surviving are his father of Woodstock; three daughters, Kim Neumann, Bloomington; Renee Neumann, Jacksonville; and Melissa Neumann, River Forest; and one sister, Shirley (Warren) Schwemm, Crystal Lake. His mother preceded him in death.

Mr. Neumann was an analyst for product planning and development at State Farm Insurance Co. for 22 years. He was a 1972 graduate of Illinois State University. He was a member of St. Paul's Evangelical Lutheran Church of Lexington, where he was very active and served on the Board of Elders and as chairman of the congregation. He was a former member of Lexington Kiwanis Club.
Published in The Pantagraph, Bloomington, Illinois, Friday, December 11, 1998.
Click here to see Tom's last Profile entry.